These are the bonus footage/deleted scenes from The Osbournes episode For the Record..., these are featured on The Osbournes/ The First series DVD.
Bonus Footage
Edit
Rock vs. Vaudeville
Edit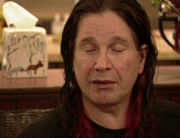 Ozzy discusses what makes Rock different to Vaudeville. He says;
"What I always say about Rock 'n' Roll is...the only difference between vaudeville and rock 'n' roll is having a vacation."
— Ozzy Osbourne
Ozzy's Wasted PSA
Edit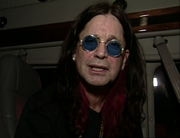 A drunk Ozzy sits in a limo and tells the camera his bit of advice.
"If there's any advice I can give to you. Any message you wanna hear. This is it. Don't smoke tobacco, tobacco is evil."
— Ozzy Osbourne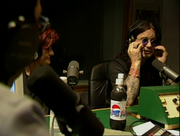 The Loveline is the extended full cut of the radio interview with Ozzy and Sharon Osbourne about their love life. Ozzy reveals to us that he loves to read and regrets being a school drop out. The two reveal how they met, and the day Ozzy bit the head off of a dove. Later on the radio hosts get calls in from fans asking Ozzy questions. Ozzy reveals his 9/11 story, he and Sharon were in New York at the time and saw it on the news, they eventually went to the roof of the hotel and saw the attacks unfold. Ozzy then talks about smoking and how he hates it and is glad to be off of it. The majority of the extract has Ozzy telling short and humourous stories from his life as well revealing his love life with Sharon.
X-Ray Album Cover
Edit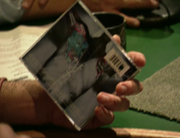 Continuing from the Loveline, Sharon discusses the latest Ozzy Osbourne album cover. She explains that the album cover is an X-Ray of Ozzy with the image manipulated and super imposed, with tattoos added on. It took three hours for Ozzy to be X-Rayed despite being told that it would only be a few minutes.
Loveline is the longest of the bonus footage at 21:01 minutes long, longer than a usual episode of The Osbournes in fact.