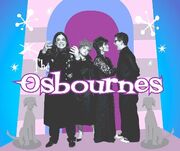 The Osbournes was a Reality TV show program featuring the domestic life of heavy metal singer Ozzy Osbourne and his family. The series premiered on MTV on March 5, 2002, and, in its first season, was cited as the most-viewed series ever on MTV. The final episode aired on March 21, 2005. A attempted revival was released in 2009 called Osbournes Reloaded, it failed to impress after one episode.
In 2018, The Osbournes returned with a spinoff Podcast series. The first episode airing on March 5th 2018.
Overview
Edit
In addition to metal musician Ozzy, the show features his wife and manager Sharon , and their children Jack and Kelly. The Osbournes other daughter, Aimee, who refused to participate in the show and publicly criticized her parents for their antics on the show. In most family photos shown on the show, she is either absent or blurred, however, she is mentioned throughout the series mainly by Kelly. The series also followed the family as they dealt with major events such as Sharon's battle with cancer, and the aftermath of an ATV accident that nearly killed Ozzy.
Concurrent with the success of the series, Kelly Osbourne launched a brief career as a singer, while Sharon Osbourne hosted The Sharon Osbourne Show. The family also parodied their TV series during cameo appearances at awards shows, and in the film Austin Powers in Goldmember. Throughout the series there are cameo appearances of many other celebrities such as Marilyn Manson, Courtney Love and Natalie Portman.
Regular appearances consist of nanny Melinda and Robert, whom Sharon took him in during the second season after his mother died of cancer. While a constant presence in front of the camera, few plots revolved around Robert and he had few lines.
As well as achieving the highest ratings in MTV history, The Osbournes won a 2002 Primetime Emmy Award for Outstanding Reality Program.
Releases
Edit
Only seasons one and two (released in two sets as season two and two 1/2 or 2.5) have been released on DVD.
The Osbourne Family Album, a various artists compilation based on the show, was released in June 2002.
The Osbournes podcast was available to watch on the official Osbournes Podcast on iTunes for free.