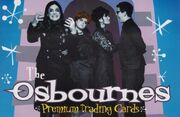 The Osbournes Trading Cards is a piece of merchandise released in 2002 based on the success of first series.
Basic description
Edit
There are 72 cards altogether, each pack of cards contained six. The 72-card base set focuses on the show's first season. Subsets include "There Goes The Neighborhood," "In The Doghouse," and "Sharonnnnn!" Fronts of the cards highlight favorite moments from the show with some of the show's most quotable lines on the backs.
Inserts include autographs and Pieceworks cards featuring pieces of clothing worn by Ozzy Osboure, Sharon, Jack and Kelly. Boxes don't guarantee any hits but two out of three do have a Pieceworks card. Autographs were tougher, landing 1:137 packs.[1]
Crazy
Kelly's Birthday
Surprise for Ozzy
Ozzy's Birthday
Thanksgiving Day
The Gravy Chef
Christmas Dinner
The Meaning of Christmas
Merry Christmas from The Osbournes
The Dad
Family First
Play By The Rules
Be Unique
Take Time For Yourself
No Smoking
Listen and Learn
Care For Your Pets
Fences Make Good Neighbors
The Mom
Inspirations
Shopaholic
No Martha Stewart
Laugh Track
Manager
When Pigs Fly
Sex, drugs...
Toilet Water
The Daughter
Heart Forever
Daddy's Girl
Lost and Found
Curfews
Different
Fake ID
That's the Ticket
Rising Star
The Son
Fun & Games
Hair Today
Nanny Woes
No Mall Rat
Good Hair Day
Empire Building
Parents Say the Darndest Things
Off To Camp
Lola
Minnie
Crazy Baby
Maggie
Puss
Lulu
Martini
Pipi
Gus
Maid of the Mansion
Star Treatment
Room Service
High Society
Fine Dining
Bearing Crosses
Dirty Business
On The Road Again
Public Relations
Tiny Bubbles
The Remote
Dog Toy
Making a Living
Non-Stop Rock 'n Roll
Old Stand By
The Smell of Victory
Falling for Ozzy
Checklist
References
Edit